WeatherBrains Episode 853 is now online (May 23th, 2022). If you are crazy about weather, this is THE podcast for you!
Tonight's Guest WeatherBrain is the Communication and Public Affairs Officer at NOAA's National Hurricane Center.  He's worked for NOAA for over 20 years and prior to that he worked almost three decades as a broadcast meteorologist.  He's retiring on June 1st.  Dennis Feltgen, welcome!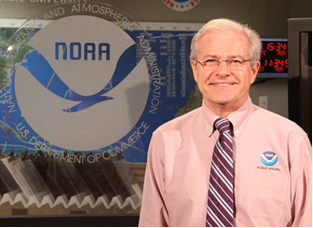 Our email officer Jen is continuing to handle the incoming messages from our listeners. Reach us here: email@weatherbrains.com.
Look back at Hurricane Opal (56:10)
State of broadcast meteorology world (01:25:25)
Union City, OK 1973 tornado (01:45:45)
The Astronomy Outlook with Tony Rice (01:34:55)
This Week in Tornado History With Jen (01:37:41)
National Weather Round-Up
E-Mail Segment (01:40:35)
and more!
Web Sites from Episode 853:
KSTP's Meteorologist Dennis Feltgen

KSTP-TV Twin Cities Today, Dennis Feltgen with twins Jonathan and David, June 1981

The Weather with Dennis Feltgen (KSTP 1981)

Picks of the Week:
Bruce Jones – H.R. 5324 NWR Modernization Act of 2021

Jen Narramore – Tim Marshall Facebook post

Rick Smith – Overview of May 24, 2011 tornado outbreak

Neil Jacobs – EMC verification and testing of releases

Troy Kimmel – Iuka, Tishomingo County, MS (K15M) AWOS

Troy Kimmel – MesoNet

Kim Klockow-McClain – A Spatiotemporal Perspective on the 31 May 2013 Tornado Evacuation in the Oklahoma City Metropolitan Area

Bill Murray – Foghorn
James Spann – Pool tornado

The WeatherBrains crew includes your host, James Spann, plus other notable geeks like Troy Kimmel, Bill Murray, Rick Smith, Jen Narramore, Dr. Neil Jacobs, and Dr. Kim Klockow-McClain. They bring together a wealth of weather knowledge and experience for another fascinating podcast about weather.