Brains Bios
James Spann
I am the Chief Meteorologist for the ABC TV affiliate in Birmingham and produce daily weather forecasts on over two dozen radio stations around the nation. I have been doing the weather on radio and TV since 1978, making me an old geezer, but a guy that still has a blast doing weather across a variety of media platforms. WeatherBrains is my creative outlet of the week; I host the show simply because I have the toys to put it together. I love sitting behind the golden PR-40 every Monday night for our weekly WeatherBrains session.
My TV career started in Tuscaloosa, Alabama at the local CBS affiliate at the time, WCFT, Channel 33. Along the way I have spent time at WSFA-TV in Montgomery, Alabama (Channel 12), WVTM in Birmingham (Channel 13), KDFW in Dallas (Channel 4), and WBRC in Birmingham (Channel 6). I have been at my current station since 1996; clearly the longest stop in my long career. And, I hope it is the last!
I hold the AMS CBM (Certified Broadcast Meteorologist)… 33rd in the nation. I wanted to be in the top ten, but I just didn't have time to take the exam right when the program started.
I have been married to my wife Karen since 1981, and we have two boys that happen to be 13 years apart. One is out of college, the other is in middle school. Away from the weather business, I serve in children's ministry at a local church and still enjoy amateur radio as my hobby. I hold the extra class license, and my call is WO4W. I am blessed.
---
---
Bill Murray
I was factory designed to love weather and have loved it since I came into this world. I am the official weather historian for WeatherBrains. My heroes are David Ludlum, and our very own J.B. Elliott, who we miss very much. Snow is my favorite weather phenomenon, but I am fascinated by hurricanes and tornadoes as well.
My junior year in high school, I did a science project that stopped hurricanes. In May 1979, that project, entitled "Using Monomolecular Sea Surface Polymer Films to Suppress Tropical Cyclone Development" went to the 20th International Science and Engineering Fair in San Antonio, Texas where it won several awards.
I did television weather for fun at the CBS affiliate in Birmingham for five years in the early 90s and created a weather company called The Weather Source with John Oldshue. We sold it in 1996. Our group formed The Weather Company in 1998. In 2002, I was asked to author an annual weather calendar published by Andrew McNeel. It puts a lot of my weather trivia information to use. I have been the President of The Weather Factory (originally called The Weather Company) since 1998. I get to do weekend forecasting and severe weather coverage on the AlabamaWX website.
I have been serving as the Guest Booking Officer as well as being a charter Panelist on the WeatherBrains since it began back in 2006.
I also own a hotel management company that manages 34 hotels across the country from New Mexico to Florida. My work on Integral Hospitality Solutions takes me all over the nation, which leads to some interesting settings for my forecasts. Many reports have originated from AMTRAK trains, sporting events, and festivals.
---
---
Kim Klockow-McClain
Kim Klockow-McClain is a research scientist and the societal impacts coordinator for CIMMS/NSSL. Her research involves behavioral science focused on weather and climate risk, especially informed decision- making to support warning response, and issues in the communication of forecast uncertainty.
In addition to research pursuits, Kim is working to develop a formal social scientific research portfolio at CIMMS/NSSL.
Kim previously worked at NOAA headquarters as a policy advisor for social science integration. She was the 2013-2014 AMS/UCAR Congressional Science Fellow, and worked in the office of Senator Jeff Merkley. Prior to her fellowship year, Kim earned her Doctorate in Hazards Geography and Masters of Professional Meteorology from the University of Oklahoma, and Bachelors degrees in Economics and Meteorology from Purdue University.
---
---
Rick Smith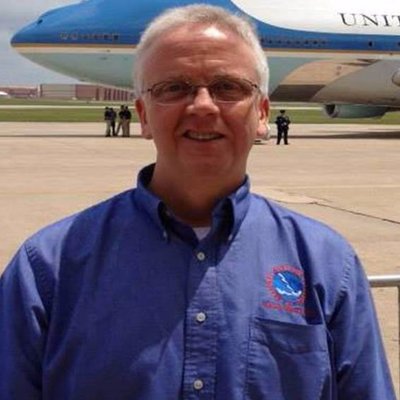 I was born and raised in Olive Branch, Mississippi, just south of Memphis, and have been into weather for as long as I can remember. There wasn't really a single event that sparked my interest in weather, just a combination of intense fear and intense fascination with tornadoes and severe weather. I've wanted to be a meteorologist since forever, and I am truly blessed to be able to do what I love…and get paid to do it!
I'm one of the few and the proud to receive a degree from the very short-lived meteorology program at the University of Memphis. While finishing up college, I worked as a Student Volunteer, and then got a paid student position and eventually a full time meteorologist intern position at my hometown NWS office in Memphis. In 1997, I moved to Tulsa, OK to be a forecaster, and moved again in 1999 to work in the NWS Southern Region headquarters in Fort Worth. I was selected to be the Warning Coordination Meteorologist at NWS Norman – my dream job – in January of 2002, and I've been here ever since.
While tornadoes got me into weather, my main interests have always been associated with communication of weather information, human response to warnings and the societal impacts of severe weather. I've been active (probably too active) in social media since 2009 and am fascinated with learning about how people and organizations use weather information to make critical decisions.
I'm married to a beautiful and patient wife who puts up with all the craziness that weather in Oklahoma can bring, and we have four awesome kids and one crazy boxer named Lucy.
---
---
Troy Kimmel
Troy Kimmel (BS, Geography, Texas A & M University, 1984), Senior Lecturer in Studies in Weather and Climate in the Department of Geography and the Environment at the University of Texas at Austin as well as Chief Meteorologist at KOKE-FM (Austin Radio Network), has been forecasting Austin and south-central Texas weather for over 30 years. He is a full member of the American Meteorological Society, the National Weather Association, the Association of American Geographers, the International Association of Emergency Managers as well as the Emergency Management Association of Texas.
He holds the AMS Certified Broadcast Meteorologist seal as well as the TV and Radio Seals of Approval from the National Weather Association. In addition to his teaching duties at the University of Texas, he serves on the University of Texas Safety and Security Committee where he serves as University/Incident Response Meteorologist for emergency activations and special events (athletic events, graduation) on campus and, in the community, as a CERT Team Member for the City of Austin and for the Travis County offices of Homeland Security and Emergency Management as well to the Operations Division of Austin Bergstrom International Airport.
He has completed FEMA Incident Command System (ICS) 100, 200, 300, 400, 700 and 800 certifications. He also owns and operates KimCo Meteorological Services providing meteorological services to the private sector. Kimmel has been recognized by the American Meteorological Society for "The Award for Outstanding Service by a Broadcast Meteorologist" (January 1998) and by the National Weather Association as "The National Television Broadcaster of the Year" (October 1988).
---
---
Jennifer Narramore
I am a Midwest girl, originally from Beech Grove, Indiana.
My interest in weather came in middle school. I was living in Central Florida at the time and became fascinated with hurricanes and tracked every storm on the tracking charts you get at the grocery store.
I graduated in 1995 with a B.S. in Meteorology from Penn State University. I have been working as a radio broadcast meteorologist for 20 years. I began my career at the Weather Channel and currently work for The Storm Report Radio Network.
I provide daily forecasts for 50+ cities across the country. I also provide severe weather coverage for a dozen stations including WIBW-Topeka, KMBZ-Kansas City and KNSS-Wichita.
I Co-Founded Tornado Talk in 2016. It began as a podcast. After 36 episodes, the podcast ended but I continued the brand as an in-depth website dedicated to tornado history.
My hobbies include: Volunteering with the special needs community and competitive tennis.
---
---
James Aydelott
James is the Chief Meteorologist at KOKI-TV in Tulsa. He grew up in Tulsa and works three miles from his childhood home, and had a few close calls from tornadoes while growing up.
James and his wife Robyn have two kids and a golden retriever, Sophie.
He's an instrument-rated pilot and enjoys flying his Cessna Cardinal.
After graduating from Tulsa's East Central High School, he headed to the University of Oklahoma and graduated with a Bachelor's degree in meteorology. James has a Master's degree in Emergency Management from Oklahoma State University, and he's currently a Ph.D. student in Emergency Management at OSU.
James has worked in Sherman, TX, Savannah, GA, Wichita, KS, Dallas-Fort Worth, and in Tulsa, seeing and forecasting everything from tornadoes to hurricanes to blizzards.
His main interests are severe weather, radar, risk perception, and improving warning messaging effectiveness.
---
---